Jig's Up! is a Quebec City band that plays roots-oriented music.  Much of their music is about characters and places throughout the great country of Canada from Newfoundland, "Down From the Hills", across the Prairies, "Leo's Hooch", to the Yukon, "Yukon Girl".  Their music has been described as "celtic-western" "funkin' bumpkin", "twisted country" and "east-coast music with a dash of prairie seasoning".  High energy, foot-stompin', good-time music is perhaps the best way to describe the Jig's Up! experience.
La musique de Jig's Up! est bassée sur le "folklore traditionnel" et la musique "country".  Il y a aussi une forte influence venant des expériences variées des members du groupe, un mélange des anglophones et francophones demeurant dans le coeur du Canada francais.
 Les compositions sont aussi originales que le son de Jig's Up! lui meme  qui couvre le pays du Yukon à Terre-Neuve.  Toutes le chansons racontent une histoire, que ce soit à propos du "bagosse" sur les prairies, "Leo's Hooch" ou le "hors-la-loi" Clyde qui s'est caché dans les côtes du Rawdon en Nouvelle Ecosse.  La musique du Jig's Up! ressemble à du "celtique-western", "musique de grange", "hillbilly" et "la musique des maritimes avec une teinte des praires".  Peut-etre la meilleure façon de décrire l'expérience Jigs Up! est qu'il donne le gout de danser!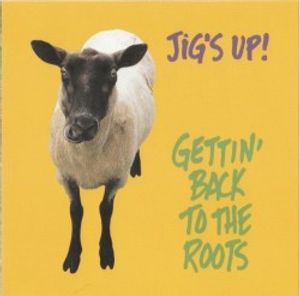 Musicians:
David Parker – vocals, saxophone, mandolin, penny whistle
Yvan Fortin – guitar
Dan Godro – organ, bass
Andy Stewart – drums
Press quotes:
"This band is a gem in any setting"  - Jill Walker (CBC)
"A cool new entry to the trad/fusion lexicon" – Sandy MacDonald (The Daily News, Halifax)
"Grungy Barn Music" – The Country Music News
"A real shoe-shakin', toe-tappin', boot-stompin', leg-wigglin', hip-giratin', arm-swingin', head-bobbin', and beer-swiggin' show!" – unknown fan
Musiciens: 
David Parker – voix, saxophone, mandolin, penny whistle
Yvan Fortin – guitare
Dan Godro – orgue, basse
Andy Stewart – batteries
Presse:
 "Musique de…grange" – Gaetan Jobin (ancien member du groupe)
"Un rendrz-vous incontournable avec le plaisir et la joie de vivre!" – Catherine Juneau (Impact Campus)
"13 pieces qui vous donnent des fourmis dans les jambes" - ???