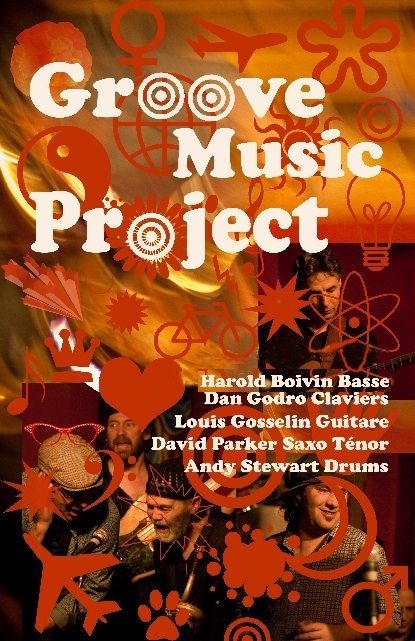 The Groove Music Project
The Groove Music Project is dedicated to a sound that is based in the music "Soul" "Funk", "R&B", "Gospel" and "Blues".  They are often found playing Saturday nights at the "Foubar" in their hometown of Quebec City where their "New Orlean's Funk" evenings have been a huge sucess since the Fall of 2012. 
The band was started in 1997 by bassist Harold Boivin and drummer Andy Stewart. The other musicians in the project are: Geneviève Duval (trombone), Dave Parker (sax & vocals), Dan Godro (keyboards) and Yvan Fortin (guitar) Notable performances include the jazz festivals in Montreal, Fredericton and Quebec City.  
Dans le bouillonnement fertile des cultures de la « beat generation » le Soul, le Funk, le R&B, le Gospel et le Blues ont littéralement explosé l'univers musical du vingtième siècle. Fondé en 1997 par Harold Boivin et Andy Stewart, le Groove Music Project se situe à l'épicentre des styles musicaux convergeants des années 60 et 70. Formé de cinq musiciens expérimentés, le Groove music Project réinvente la dimension psychédélique et convie à la communion des exubérances sonores.
Le Groove Music Project est formé de Harold Boivin à la basse, Andy Stewart à la batterie, Dan Godro aux claviers, David Parker au saxophone, et de Louis Gosselin à la guitare.