The Dudes of Swing is a swinging dance band made up of five distinguished musicians based in Quebec City.  Co-led by Dave Parker (saxophone/vocals) and Paul Hinton (guitar/vocals) the "Dudes" play a repertoire inspired by Swing, Rock & Roll, and R&B from the 1920's – 1950's.  The other members of the orchestra include Jacques Bourget (trombone), Pierre Côté (bass) and Raynald Drouin (drums). 
Le groupe "Dudes of Swing" est un orchestre de danse consacré à un répertoire inspiré de la musique des années 1920 à 1950 (Swing, Rock & Roll et R&B) .  Les membres du groupe sont parmis les musiciens de jazz des plus distingués à Québec.  Les "Dudes" sont fondés et co-dirigés par David Parker (sax/vocale) et Paul Hinton (guitare/vocale).  Les autres membres sont Jacques Bourget (trombone), Pierre Coté (contrebasse) et Raynald Drouin (batteries).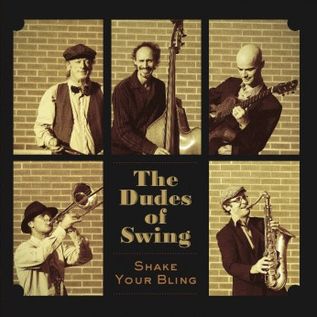 "Shake Your Bling" by the Dudes of Swing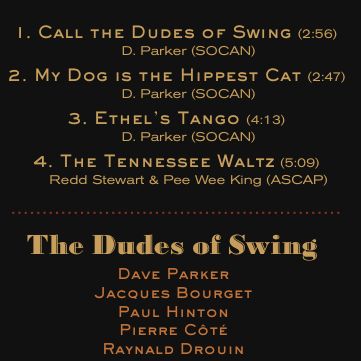 Click the title to hear the music!
"This first single could be the song that gives you the confidence to cross the dance floor and ask that special girl/boy to shake it up with moves that you never knew you had!"
"This Dude's original gives a wink and a nod to the great Louis Jordan"
"This compo will hopefully stretch your dancing palette across the dance floor and back"
"The Beautiful Tennessee Waltz"
Recording engineer - Paul Hinton
Producers - David Parker and Paul Hinton
Mastering - Harris Newman (Grey Market Mastering, Montreal, Que.)
Graphics - Genviève Boivin
Photos - Francois Quenneville